Six Month Old Male "Manny"

Four Month Old Male "Graham"
---

Seven Month Old Female "Amelia"
---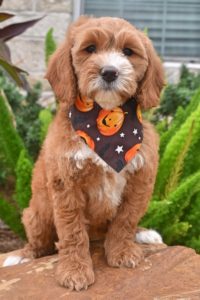 9 Week Old Female "Lola"
Roxy is now 6 months old and she is SOOOO cute! She is super sweet, smart and devoted. Currently, she is about 23 pounds. She loves to be around our kids and other dogs.  She also loves water, fetching and digging in the sand at the beach. We have taken her sailing a few times and she does well on the boat. We absolutely love her and could not have asked for a better puppy for our family.
Bloom is the offspring of Lady Nora and Cloud Catchers Limited Edition Eddie. Happy birthday to all her brothers and sisters. It is nice to see her sisters Bella Nora and Molly on your blog. We think Bloom is a little bit smaller (26 pounds and 18 inches). But she is also very smart and well behaved. She loves to play with kids and her Doodle's sister' and friends.
It has been a wonderful year. Thank you so much for our lovely Bloom.
We are amazed as to how smart Bella and Molly are. People always comment on how beautiful and well behaved they are. Our kids love them. We can't picture our lives without Bella and Molly. We are grateful to Manor Lake for giving us two wonderful Labradoodles. Bella and Molly enjoying each other's company in the backyard. Thank you so much.
Phone & Email
Phone (360) 303-0497
office@manorlakelabradoodles.com
OFFICE Hours
 Monday – Thursday   9 am – 5 pm Friday  9 am – 3 pm
Address
2950 Newmarket St #101, Bellingham, WA 98226